Money Counting Scales
Safescan

6175
Money Counting Scale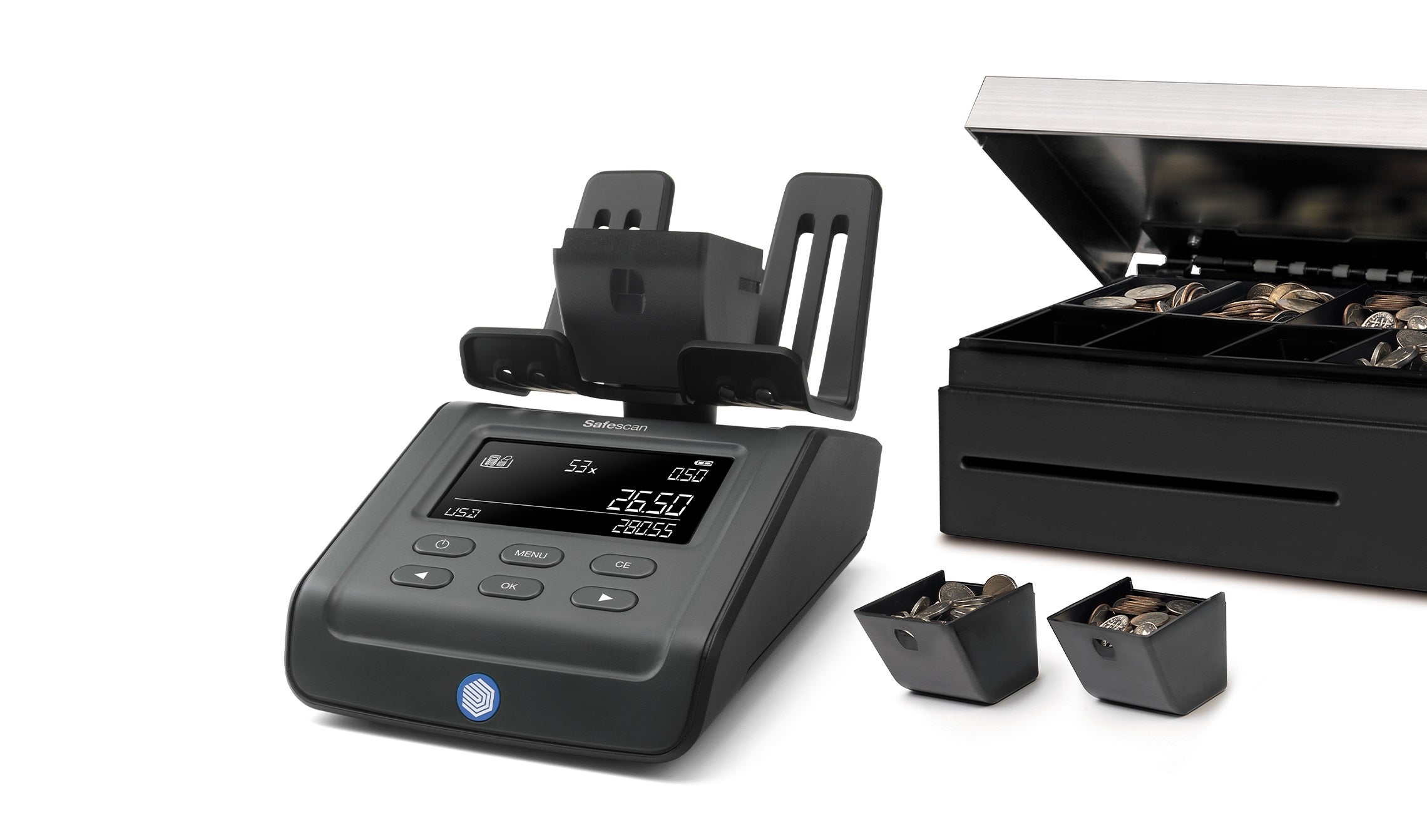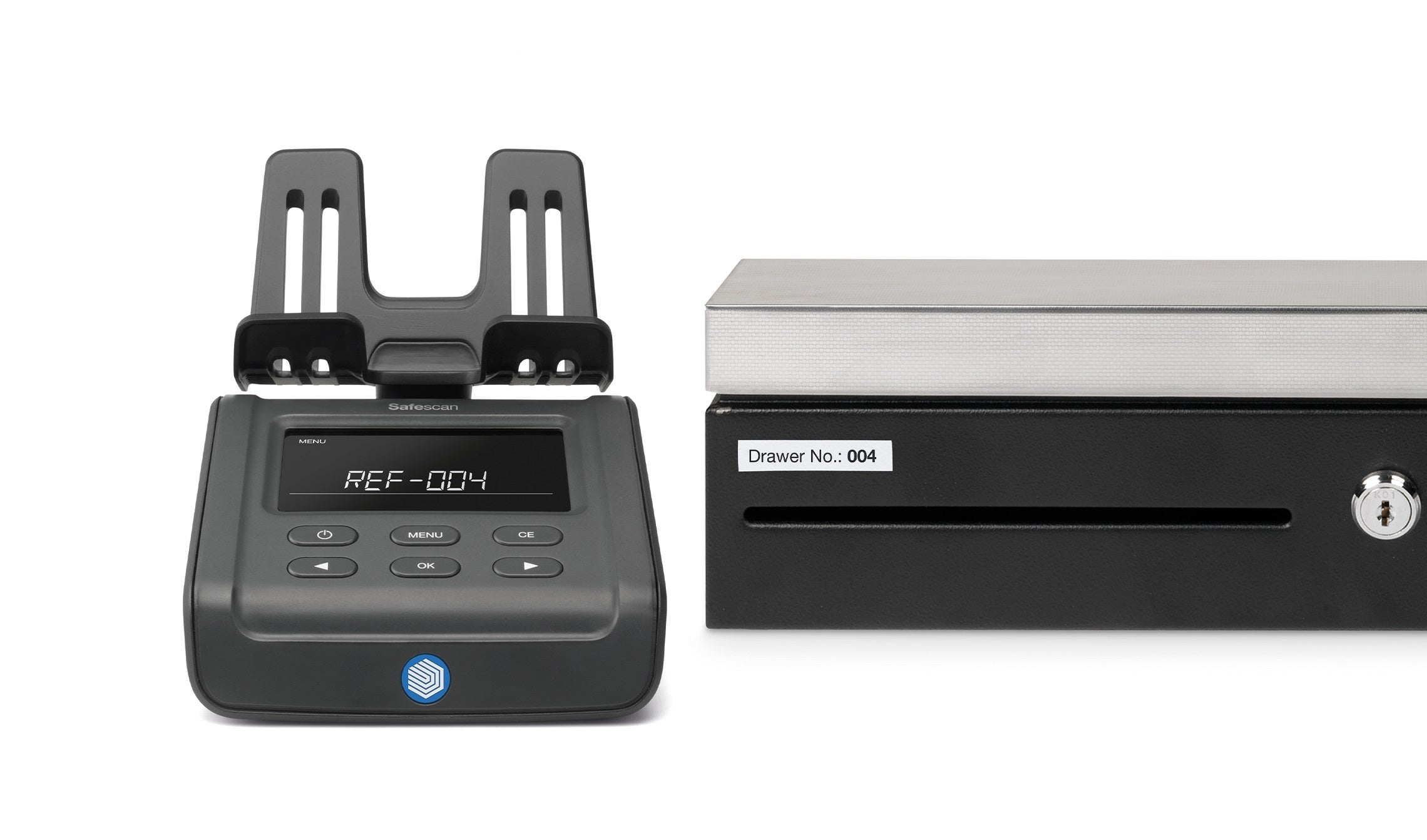 FREE SHIPPING

Free Shipping via UPS Ground

30-DAY MONEY-BACK GUARANTEE

Not satisfied? You can return your products within 30 days.

3 YEAR WARRANTY

Safescan products come with a 3 year warranty

PROFESSIONAL SERVICE

Our experienced customer service agents are available for all your questions.
VALUE COUNT MULTIPLE CASH DRAWERS IN NO-TIME

Save time and simplify your cash management. The Safescan 6175 rapidly value counts coins, bills and even non-cash items with the highest level of accuracy. Within minutes you will know the exact value of each cash drawer, and have a complete overview stored on your device and ready to add to your administration. Perfect for when you need to count multiple cash drawers quickly. Thanks to its adaptive design, large display and improved user-friendly interface, your cash counting will be easier, faster and more reliable than ever.
ACCURATELY VALUE COUNT COINS AND BILLS

The Safescan 6175 is the one-stop solution that helps you save time and money. Thanks to its adaptive counting system the Safescan 6175 can weigh and process all bills with the highest precision. It can even count different bill versions of the same denomination together. No need to sort them first. Besides loose coins and bills, the Safescan 6175 can also count coin rolls and bags as well as bundled bills. It automatically recognizes all general coin rolls and can process all denominations at the same time for an even faster and easier count.

Whenever a new bill version or coin is released, you can easily update your Safescan 6175 for free by downloading the update from our website. So you can use your Safescan 6175 for years to come.
COUNT AND PROCESS NON-CASH ITEMS WHEREVER YOU NEED

The Safescan 6175 can also process non-cash items. Perfect for when you need to count and register gift vouchers, discount coupons, event tokens or even casino chips. Simply weigh an individual item, add a value to it and store your settings. They are now available in your count list to select and count. It's that easy.

You can even count your event tokens and cash directly at your event. Its compact design, large display and modified money platform make the Safescan 6175 suitable for all sales environments, even remote and portable ones. Simply use the optional Safescan LB-205 battery to cash up whenever and wherever you need.
STREAMLINE YOUR ADMINISTRATION

Need to count and keep track of multiple cash drawers? No problem! Using the optional battery, you can easily move the Safescan 6175 to your different cash drawers or workstations and start counting. Thanks to its improved feature navigation and export menu, you can easily and quickly store the individual counting results on the device and add a personal reference number to them. So you always know what result belongs to which cash drawer or employee. Making your administration process even easier.
CREATE THE PERFECT POS SOLUTION

Elevate the possibilities with one of our matching accessories. Our custom cash drawers and coin cups fit perfectly in any sales environment and make the ultimate companion for the Safescan 6175. Our money counting scales automatically recognize the weight of our 4617CC coin cups, making it possible for you to place them on the scale without removing the coins. Counting your entire cash drawer in just a minute! Saving time and money.

Once the count is complete you can easily store you counting results, print them with the Safescan TP-230 printer, or export them to your computer using the free included Safescan Money Counting Software. There is no easier or faster way to process your cash.
Specifications
Money counting scale that value counts sorted coins and bills for all pre-installed currencies
Pre-installed currencies:
USD, CAD, MXN, EUR, GBP, CHF, CNY, HKD
Other currency packages available to download for free
Counts loose coins and bills, coin rolls, coin bags and bundled bills
Counts and processes non-cash items such as vouchers, coupons, tokens and chips
Stores the counting results of up to twenty individual sessions on the device
Can link counting results of different sessions to personally chosen 3-digit reference number
Automatically recognizes all general coin rolls and counts the different denominations mixed together
Counts bills with the highest level of accuracy thanks to its adaptive counting system
Counts old and new versions of the same bill denomination together
Can count your entire cash drawer in just a minute when combined with our custom accessories
Counts added coins and bills until the cup or stack is removed
Automatically goes to the next denomination when the cup or stack is removed
Shows a complete overview of counting results per denomination
Can deduct the starting value from the end count to calculate day totals
Link date and timestamps to counting results with its real-time clock
Calibrate a second coin cup from your own cash drawer to speed-up counting process
an also be used as a precision weighing scale with a maximum load of 3.3 lbs
Compact, silent and user-friendly design
Easily operated thanks to its improved user interface, new export menu and large 4.1 inch LCD display
Speed up counting process by combining the custom Safescan cash drawers and coin cups
Free currency updates available to download via your PC whenever a new bill or coin is released
Includes free Safescan Money Counting Software for exporting counting results and installing currency updates
Supports up to 30 hours of portable use with the optional Safescan LB-205 battery
Compatible with the optional Safescan TP-230 thermal printer
Part number: 131-0707
Power: 110V ~ 240V
Dimensions: 5.6 x 9.6 x 5.8 inch
Weight: 1.19 lbs
30 day satisfaction guarantee
3 year warranty
CE certified
In the box
Safescan 6175
Money platform
Coin cup
Power adapter
USB / MCS cable
Printer cable
Get started flyer
Compare
Selection:

Safescan

6175

Select a product to compare

Select a product to compare

Currencies
USD, CAD, MXN, EUR, GBP, CHF, CNY, HKD
Currency updates
Yes
Counting capabilities
Coins, bills, coin packages, bill packages, vouchers, coupons, tokens, chips
Numeric keypad
No
Function shortcut keys
No
Auto Add function
Yes
Auto Next function
Yes
Reference feature
Yes
Bank function
Yes
Time & date function
Yes
Store counting results
Yes
Automatic calibration
Yes
LCD display
4.1 inch
Works with Money Counting Software
Yes
Printer port
Yes
Portable usage
Yes, with optional battery
Dimensions (inch)
5.6 x 9.6 x 5.8
Color
Black
Weight (oz)
19.04
Warranty
3 Years
CE approved
Yes
Price
$349.00
More information
Downloads
Product details

VALUE COUNT MULTIPLE CASH DRAWERS IN NO-TIME

Save time and simplify your cash management. The Safescan 6175 rapidly value counts coins, bills and even non-cash items with the highest level of accuracy. Within minutes you will know the exact value of each cash drawer, and have a complete overview stored on your device and ready to add to your administration. Perfect for when you need to count multiple cash drawers quickly. Thanks to its adaptive design, large display and improved user-friendly interface, your cash counting will be easier, faster and more reliable than ever.

ACCURATELY VALUE COUNT COINS AND BILLS

The Safescan 6175 is the one-stop solution that helps you save time and money. Thanks to its adaptive counting system the Safescan 6175 can weigh and process all bills with the highest precision. It can even count different bill versions of the same denomination together. No need to sort them first. Besides loose coins and bills, the Safescan 6175 can also count coin rolls and bags as well as bundled bills. It automatically recognizes all general coin rolls and can process all denominations at the same time for an even faster and easier count.

Whenever a new bill version or coin is released, you can easily update your Safescan 6175 for free by downloading the update from our website. So you can use your Safescan 6175 for years to come.

COUNT AND PROCESS NON-CASH ITEMS WHEREVER YOU NEED

The Safescan 6175 can also process non-cash items. Perfect for when you need to count and register gift vouchers, discount coupons, event tokens or even casino chips. Simply weigh an individual item, add a value to it and store your settings. They are now available in your count list to select and count. It's that easy.

You can even count your event tokens and cash directly at your event. Its compact design, large display and modified money platform make the Safescan 6175 suitable for all sales environments, even remote and portable ones. Simply use the optional Safescan LB-205 battery to cash up whenever and wherever you need.

STREAMLINE YOUR ADMINISTRATION

Need to count and keep track of multiple cash drawers? No problem! Using the optional battery, you can easily move the Safescan 6175 to your different cash drawers or workstations and start counting. Thanks to its improved feature navigation and export menu, you can easily and quickly store the individual counting results on the device and add a personal reference number to them. So you always know what result belongs to which cash drawer or employee. Making your administration process even easier.

CREATE THE PERFECT POS SOLUTION

Elevate the possibilities with one of our matching accessories. Our custom cash drawers and coin cups fit perfectly in any sales environment and make the ultimate companion for the Safescan 6175. Our money counting scales automatically recognize the weight of our 4617CC coin cups, making it possible for you to place them on the scale without removing the coins. Counting your entire cash drawer in just a minute! Saving time and money.

Once the count is complete you can easily store you counting results, print them with the Safescan TP-230 printer, or export them to your computer using the free included Safescan Money Counting Software. There is no easier or faster way to process your cash.

Specifications

Money counting scale that value counts sorted coins and bills for all pre-installed currencies
Pre-installed currencies:
USD, CAD, MXN, EUR, GBP, CHF, CNY, HKD
Other currency packages available to download for free
Counts loose coins and bills, coin rolls, coin bags and bundled bills
Counts and processes non-cash items such as vouchers, coupons, tokens and chips
Stores the counting results of up to twenty individual sessions on the device
Can link counting results of different sessions to personally chosen 3-digit reference number
Automatically recognizes all general coin rolls and counts the different denominations mixed together
Counts bills with the highest level of accuracy thanks to its adaptive counting system
Counts old and new versions of the same bill denomination together
Can count your entire cash drawer in just a minute when combined with our custom accessories
Counts added coins and bills until the cup or stack is removed
Automatically goes to the next denomination when the cup or stack is removed
Shows a complete overview of counting results per denomination
Can deduct the starting value from the end count to calculate day totals
Link date and timestamps to counting results with its real-time clock
Calibrate a second coin cup from your own cash drawer to speed-up counting process
an also be used as a precision weighing scale with a maximum load of 3.3 lbs
Compact, silent and user-friendly design
Easily operated thanks to its improved user interface, new export menu and large 4.1 inch LCD display
Speed up counting process by combining the custom Safescan cash drawers and coin cups
Free currency updates available to download via your PC whenever a new bill or coin is released
Includes free Safescan Money Counting Software for exporting counting results and installing currency updates
Supports up to 30 hours of portable use with the optional Safescan LB-205 battery
Compatible with the optional Safescan TP-230 thermal printer
Part number: 131-0707
Power: 110V ~ 240V
Dimensions: 5.6 x 9.6 x 5.8 inch
Weight: 1.19 lbs
30 day satisfaction guarantee
3 year warranty
CE certified

In the box

Safescan 6175
Money platform
Coin cup
Power adapter
USB / MCS cable
Printer cable
Get started flyer