Banknote Counters
Safescan

2680-S
Banknote Counter
6-Point counterfeit detection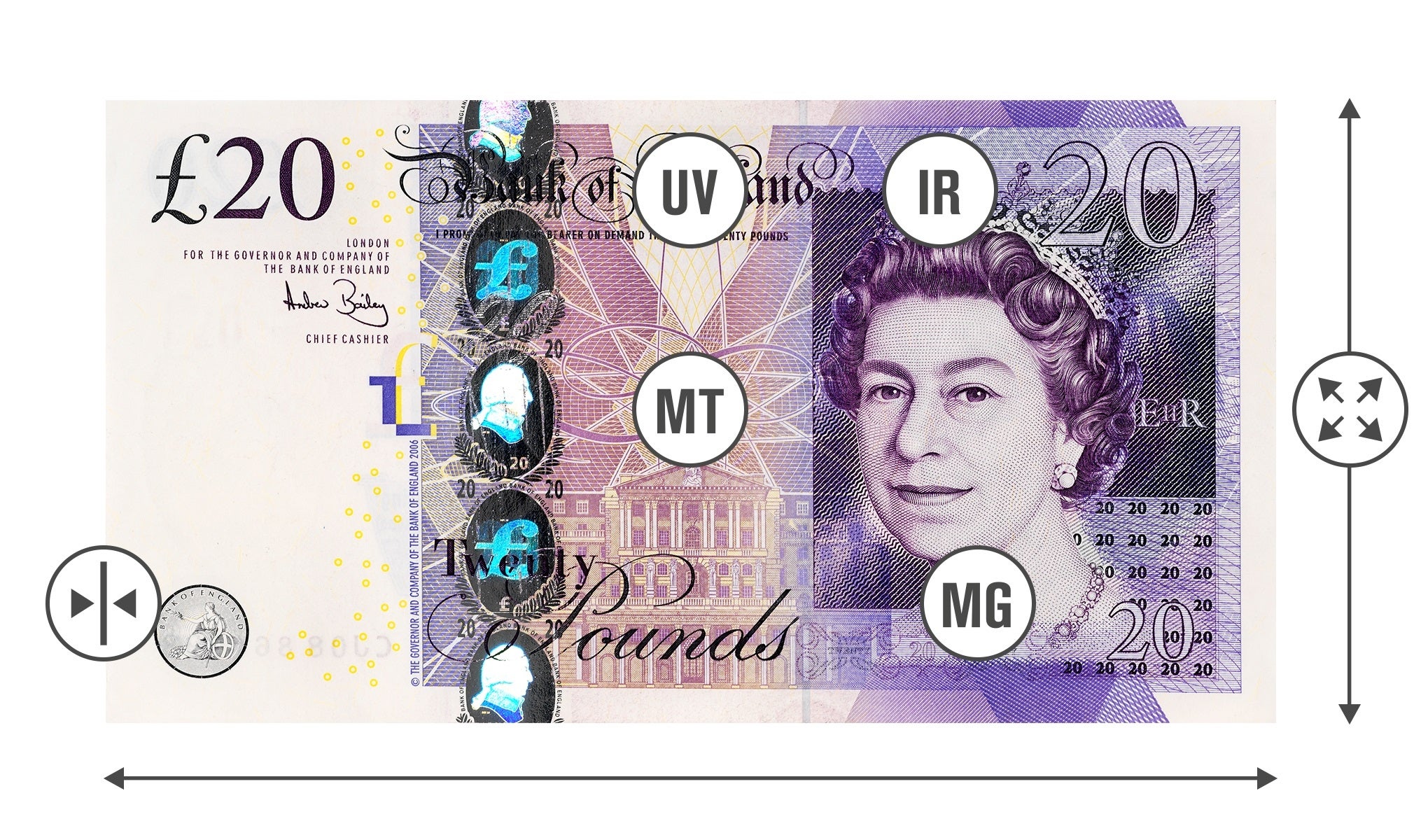 FREE SHIPPING FROM €50

We offer free shipping for all orders with a value of €50 or more.

3 YEAR WARRANTY

Safescan products come with a 3-year warranty.

PROFESSIONAL SERVICE

Our experienced customer service agents are available for all your questions.
MAXIMUM-SPEED BANKNOTE COUNTING

Save time and eliminate all chance of error. The Safescan 2680-S's spacious hopper can hold 500 sorted banknotes, and three adjustable speeds provide you with maximum counting flexibility, reliability and efficiency—up to 1500 notes per minute. The 2680-S while rapidly counting the number of banknotes, now also calculates the value per denomination.
CONTINUOUS FEEDING FOR OPTIMAL EFFICIENCY

The 2680-S's front-loading hopper makes it possible for you to keep adding notes while it runs, for continuous counting—ideal in environments where time and accuracy are of the utmost importance.
SAVE TIME WITH AUTOMATIC ADD & BATCH FEATURES

Let the 2680-S help you optimize your cash-counting workflow. Press the convenient "add" button and the 2680-S will automatically keep track of the total note count across individual runs.
Press "batch" and enter the desired number of bills and the 2680-S will automatically pause each time it counts out that number. There's no faster way to prepare your bank deposits and cash drawers.
TOP-OF-THE-LINE COUNTERFEIT DETECTION

The Safescan 2680-S uses the latest counterfeit detection technology to scrutinize six advanced security features built into today's currencies: ultraviolet ink, infrared ink , magnetic ink, metallic thread, size and thickness. This technology is so reliable it will detect double notes and half notes. You'll know with 100% certainty whether each note is genuine or counterfeit.
GUARANTEED 100% RELIABLE

The 2680-S is regularly put through rigorous testing by major central banks, using their latest test decks of genuine and counterfeit banknotes. Every time, the 2680-S passes these tests with flying colors, guaranteeing that it reliably identifies both counterfeit and authentic banknotes with proven 100% accuracy.
FULLY VERIFIES UP TO 10 CURRENCIES

The 2680-S is programmed to automatically identify and authenticate banknotes in 10 different currencies (EUR, GBP, USD, CHF, PLN, SEK, NOK, DKK, CZK, HUF). It checks all other currencies on up to three security features: UV ink, magnetic properties and size.
ALWAYS UP TO DATE

Central banks are constantly updating their banknotes to incorporate the newest security features and make it even harder for counterfeiters to succeed. Safescan's dedicated currency management team makes sure your 2680-S keeps pace with these changes. We notify you whenever there's an update; all you have to do is install it using the USB port or Micro SD slot on the back of the device.
EASY TO USE WITH A LARGE, CLEAR DISPLAY

The 2680-S has an intuitive control panel and a large, crisp display. Six clearly labeled buttons provide easy access to the 2680-S's many features. The spacious backlit LCD screen tells you exactly what you need to know: the number of notes counted and the specific count and detection settings you've selected.
3 year warranty

Our products are manufactured to exacting quality standards and come with a comprehensive three-year warranty against defects.
Specifications
Counts up to 1.500 banknotes/minute
10 default currencies
Large hopper capacity of 500 notes for high capacity counting
Counting and counterfeit detection for sorted banknotes
Adjustable counting speed: 800, 1.200 and 1.500 bills per minute
6-point counterfeit detection for Euro: UV, magnetic ink, metallic thread, infrared, thickness and size detection
Counts the number of banknotes and calculates the value per denomination
10 default currencies for checking and counting: EUR, GBP, USD, CHF, PLN, CZK, HUF, SEK, NOK, DKK
100% tested for Euro and GBP
Add and batch function
Counts and verifies old and new series Euro banknotes (ES-1/ES-2)
Stacker capacity of 220 notes
User-friendly front panel
Large LCD display with clear & professional layout
Sheet counting option (free count) without counterfeit detection
Auto-start and stop function
Power: 110-240V, 50/60Hz
Power consumption&colon; < 60W
Dimensions&colon; 26&period;2 x 26&period;4 x 24&period;8 cm
Weight&colon; 6&period;5 kg
14 day satisfaction guarantee
3 year warranty
CE certified
In the box
Safescan 2680-S
Manual in English
Cleaning and service kit
Power cable
Dust cover
Compare
Selection:

Safescan

2680-S

Select a product to compare

Select a product to compare

Detection method
UV, MG, MT, IR, SD, TD
Sheet counting
Yes
Counting with Counterfeit detection
Yes
Selectable currencies for counting with counterfeit detection
EUR. GBP. USD, CHF, PLN, CZK, HUF, SEK, NOK, DKK
Selectable currencies for Sort counting
EUR, GBP, CHF, PLN, SEK, NOK, DKK
Value (mixed) counting
No
Selectable currencies for value counting
N/A
Counting without detection
All currencies
Counting with UV detection
All currencies
Counting with UV & MG detection
All currencies
Counting speed
1.500
Fitness sorting
No
Selectable currencies for fitness sorting
N/A
Add function
Yes
Batch function
Yes
Face & Orient sorting
No
Reject pocket
No
Automatic currency recognition
No
100% tested
EUR, GBP
Serialnumber scanning
No
Portable usage
No
Voltage
AC110-240V
Dimensions (cm)
26.2 x 26.4 x 24.8
Color
Grey
Weight (kg)
6.5
Warranty
3 Years
CE certified
Yes
Price
€659.00
More information
Downloads
Product details

MAXIMUM-SPEED BANKNOTE COUNTING

Save time and eliminate all chance of error. The Safescan 2680-S's spacious hopper can hold 500 sorted banknotes, and three adjustable speeds provide you with maximum counting flexibility, reliability and efficiency—up to 1500 notes per minute. The 2680-S while rapidly counting the number of banknotes, now also calculates the value per denomination.

CONTINUOUS FEEDING FOR OPTIMAL EFFICIENCY

The 2680-S's front-loading hopper makes it possible for you to keep adding notes while it runs, for continuous counting—ideal in environments where time and accuracy are of the utmost importance.

SAVE TIME WITH AUTOMATIC ADD & BATCH FEATURES

Let the 2680-S help you optimize your cash-counting workflow. Press the convenient "add" button and the 2680-S will automatically keep track of the total note count across individual runs.
Press "batch" and enter the desired number of bills and the 2680-S will automatically pause each time it counts out that number. There's no faster way to prepare your bank deposits and cash drawers.

TOP-OF-THE-LINE COUNTERFEIT DETECTION

The Safescan 2680-S uses the latest counterfeit detection technology to scrutinize six advanced security features built into today's currencies: ultraviolet ink, infrared ink , magnetic ink, metallic thread, size and thickness. This technology is so reliable it will detect double notes and half notes. You'll know with 100% certainty whether each note is genuine or counterfeit.

GUARANTEED 100% RELIABLE

The 2680-S is regularly put through rigorous testing by major central banks, using their latest test decks of genuine and counterfeit banknotes. Every time, the 2680-S passes these tests with flying colors, guaranteeing that it reliably identifies both counterfeit and authentic banknotes with proven 100% accuracy.

FULLY VERIFIES UP TO 10 CURRENCIES

The 2680-S is programmed to automatically identify and authenticate banknotes in 10 different currencies (EUR, GBP, USD, CHF, PLN, SEK, NOK, DKK, CZK, HUF). It checks all other currencies on up to three security features: UV ink, magnetic properties and size.

ALWAYS UP TO DATE

Central banks are constantly updating their banknotes to incorporate the newest security features and make it even harder for counterfeiters to succeed. Safescan's dedicated currency management team makes sure your 2680-S keeps pace with these changes. We notify you whenever there's an update; all you have to do is install it using the USB port or Micro SD slot on the back of the device.

EASY TO USE WITH A LARGE, CLEAR DISPLAY

The 2680-S has an intuitive control panel and a large, crisp display. Six clearly labeled buttons provide easy access to the 2680-S's many features. The spacious backlit LCD screen tells you exactly what you need to know: the number of notes counted and the specific count and detection settings you've selected.

3 year warranty

Our products are manufactured to exacting quality standards and come with a comprehensive three-year warranty against defects.

Specifications

Counts up to 1.500 banknotes/minute
10 default currencies
Large hopper capacity of 500 notes for high capacity counting
Counting and counterfeit detection for sorted banknotes
Adjustable counting speed: 800, 1.200 and 1.500 bills per minute
6-point counterfeit detection for Euro: UV, magnetic ink, metallic thread, infrared, thickness and size detection
Counts the number of banknotes and calculates the value per denomination
10 default currencies for checking and counting: EUR, GBP, USD, CHF, PLN, CZK, HUF, SEK, NOK, DKK
100% tested for Euro and GBP
Add and batch function
Counts and verifies old and new series Euro banknotes (ES-1/ES-2)
Stacker capacity of 220 notes
User-friendly front panel
Large LCD display with clear & professional layout
Sheet counting option (free count) without counterfeit detection
Auto-start and stop function
Power: 110-240V, 50/60Hz
Power consumption&colon; < 60W
Dimensions&colon; 26&period;2 x 26&period;4 x 24&period;8 cm
Weight&colon; 6&period;5 kg
14 day satisfaction guarantee
3 year warranty
CE certified

In the box

Safescan 2680-S
Manual in English
Cleaning and service kit
Power cable
Dust cover